Headline article
Choose your restaurant for Valentine's Day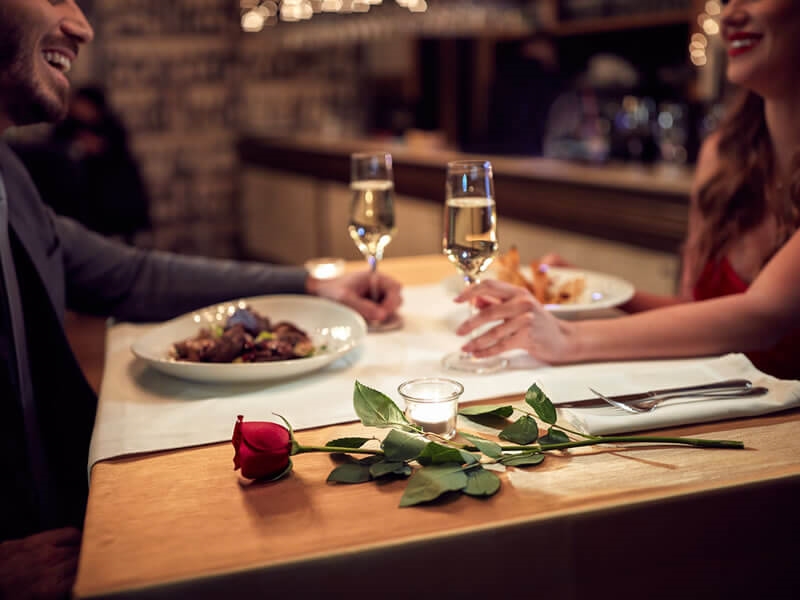 (Photo: © Shutterstock)
UPDATED FEBRUARY 14 2019
To celebrate Lovers Day as it should, you want to spend some time with your beloved in the restaurant. But which establishment to choose for a successful Valentine's Day? We give you some tips to make the heart of your dear half capsize.
To be certain of your own, the best is to choose a place that you both like and where you have your habits . So, no bad surprise that night, you are sure to eat well. Why not also opt for a place that has special meaning for your couple? First meeting, first kiss, marriage proposal ... Revive the flame!
The best is to find yourself in a quiet establishment : after all, it's your evening to you two, run away from noisy places and where all the tables are glued to each other, so you can chat quietly and whisper sweet words. Another important criterion is location. The ideal is an address not too far from your home, so as to facilitate your return.
Prefer restaurants with romantic staging and subdued lighting with a musical atmosphere, or that offer exceptional panoramas. And why not have dinner in a luxury hotel , a castle or ... on a barge? What a truly unforgettable moment!
Which kitchens to focus on?
Almost as important as the choice of restaurant, that of the contents of your plate. Most establishments offer a special tasting dinner on the occasion of Valentine's Day celebrating noble products : champagne, lobster, truffles, Kobé beef ...
However, some foods are banned during this evening under the sign of love. Thus, dishes based on garlic are to be avoided at all costs. It is also better not to set your sights on recipes in sauce or too fat, which could cause you a feeling of heaviness or even doze in the late evening.
If you are still a fan of traditional cuisine, Luxembourg is full of charming inns that offer local dishes prepared with local and seasonal products, which you can accompany with wines of Moselle , known for their finesse. To consume of course in moderation ...
You can also book in one of the 12 Michelin starred restaurants in the Grand Duchy. You will thus benefit from an exceptional menu around tasty dishes, for a gustative stroll that will remain long in the memories.
Our top 3 to spend a good time with the elected of your heart? Spanish cuisine, but also Italian , for their glamorous side, as well as Japanese cuisine , for its lightness.
If you end your meal with a sweet touch, fall for a dessert with aphrodisiac notes ( chocolate , cinnamon, exotic fruits ...), that you will share eyes in the eyes.
To offer a chef at home
And if, instead of going out to the restaurant, you are considering another option: that of calling in a professional cook who will come to your home to prepare good meals, or why not reserve the services of a caterer .
In your home, a more intimate setting, you will fully enjoy your evening in one-on-one without having to go shopping, spend time behind the stove or think about the food and wine pairing.
Still looking for therestaurant perfect ? Use our online table reservation service to make sure you do not get double or check the opinions of our bloggersto inspire you!
---
READ ALSO
Find all our practical restaurant guides and our gourmet recipes